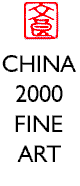 back to
On Exhibit

| | |
| --- | --- |
| Landscape Diptych (2007). | 40 x 27 in each. Mixed media on paper. |
The most palpable characteristic of He Sai Bang's painting is a sense of quiet, elegant constraint. His work is tightly disciplined but by intrinsic and occasionally strange rules, with its expressive value dependent upon non-descriptive qualities of brushwork and form and on the ways in which the artist transforms familiar objects into symbolic and creative language. At first, He's paintings seem faint and distant, simple in both content and form, impersonal and aloof. His is art that, without distractions, excludes the unnecessary and leads to immediate visual impact, drawing the viewer into ever deepening levels of intensity. American and European art critics will see the influence of the Minimalists, while Chinese art historians will see a contemporary incarnation of Zhu Da (1626-1705). In reality, he combines elements of both traditions into a style uniquely his own.
Han Patterned Cube (2007) 40 x 27 in.
Mixed media on paper.
Scholar Rock (2007). 40 x 27 in.
Mixed media on paper.
He Sai Bang creates objects of interest and beauty by reducing them to the smallest number of colors, values, shapes, lines, and textures. His work is precise and hard-edged, incorporating geometric forms often in repetitive patters and solid planes. Yet, sometimes like Chinese scholar rocks, objects appear lopsided, balancing unsteadily, creating an illusion designed to alter our perception of them in new and creative ways within the limits of the paper. Landscapes are sparse with an air of improvisation, and evidences of change of plan are visible here and there together with ambiguous passages that are likely to be only partially intentional. He Sai Bang carefully controls his emotions, preferring to slowly release his most personal feelings by momentary spurts of intuitive decisions, catching the viewer unaware and eliciting a reaction.
Old Album (2007). 40 x 27 in. Mixed media on paper.
The viewer's personal response to He's painting is of primary significance, and all its impact can be seen in terms of the relationship between the various elements of the work and their placement in space. He Sai Bang generates this highly charged atmosphere by creating images that totter on the very edge of precision. His world describes the organic unity of natural growth, life that adheres to rational laws but at times acts irrationally, that balances exactly but at times asymmetrically, a world in shades of black and shades of white where startling shadows materialize, a world that is, at heart, mysterious and unknowable. Like any great artist of any era in any land, He Sai Bang questions the nature of art and its place in our life. Into his classical background, he infuses the revolutionary concept of pure aestheticism, drawn from his experience inside and outside China. He's unique twenty-first century approach to painting will have an undeniable impact on the future of contemporary art.
He Sai Bang Chronology
1959 Born in Shanghai, China. Graduated from the Fine Art Department of Shanghai Normal University.
Selected Solo Exhibitions: 2000 He Saibang. Contemporary Ink Painting, Eastlink Gallery, Shanghai, China. 1997 He Saibang's Works, Tao Gallery, Beijing, China.
Selected Group Exhibitions: 2006 Landscape Is in the Eye of the Beholder, Alexandra Saheb Gallery, Berlin, Germany. 2005 Alien and Fantasy, Shanghai Art Museum, Shanghai, China. 2004 Invitational Exhibition of Contemporary Art, East Bank Gallery, Shanghai, China. Alien Space, Duolun Contemporary Art Museum, Shanghai, China. Abstract Painting Exhibition Shanghai, Ming Garden Art Exhibition Center, Shanghai, China. 2003 Happiness , Duolun Museum of Modern Art, Shanghai, China. 2002 Shanghai Abstract Art, Liu Haisu Art Museum, Shanghai, China. 2001 About Multiple Perspectives: Installation and Painting, Eastlink Gallery, Shanghai, China. Contemporary Ink Painting Exhibition, Liu Haisu Art Museum, Shanghai, China. Sea Horizon Painting & Sculpture Invitational Exhibition, Liu Haisu Art Museum, Shanghai, China. 2000 Shanghai2000, Walsh Gallery, Chicago, USA. 1998 Union of Contemporary Artist in China, Liu Haisu Art Museum, Shanghai, China. 1996 Contemporary Ink Painting Exhibition, China National Museum of Fine Arts, Beijing, China.
Contact us for exhibition catalogue. HE SAI BANG: LISTENING TO SHAPES, Works on Paper (2007). 60 pages with 24 color plates. $25.
© 2007 Copyright for China 2000 Fine Art